ANNUAL COMMUNITY EVENTS
burton Touch Free Car Wash invites participation in its various annual community events.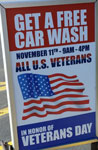 Veterans' Day - NOVEMBER 11
Each year on November 11, a complimentary top-of-the-line Ultimate Wash is given to each veteran who comes to burton Touch Free Car Wash. On this day burton Touch Free joins with the nationwide Grace for Vets program in honoring veterans and active duty military personnel for their service to our country.
Holiday Sale - LATE NOVEMBER THRU DECEMBER
burton Touch Free feels that car washes are the greatest of gifts, both for oneself and for drivers on one's holiday gift list. To this end, we run a "lowest prices of the year" sale on all wash cards and encourage everyone to stock up on their wash needs for the ensuing year as well as remember others by giving wash cards. When you give a wash card, you don't have to make choices on colors, fragrances, sizes, personal preferences - all those choices that make choosing gifts so difficult. Everyone loves a clean car, no matter what their personal preferences might be. And we make the purchase of wash cards easy - contact us by phone (802-257-5191), use our web site (www.burtoncarwash.com), or email us (office@burtoncarwash.com).
Project Feed The Thousands - DECEMBER
burton Touch Free donates 50% of its proceeds for the day to the coffers of Project Feed the Thousands on a given promoted day during December. We coordinate with local radio sponsors to choose a day with the best possible weather conditions conducive to car washing. A banner is proudly displayed on the front of the building to remind all of this promotion and to encourage giving above and beyond washing ones vehicle.
Green-Up Vermont Benefit - APRIL
To help fund the activities of the local Windham County Committee for Green-Up Vermont, burton Touch Free hosts a 2-hour remote broadcast of local radio station WTSA-FM, during which Green-Up activities are promoted and special green trash bags are given out to all car wash customers who frequent the wash during that time. 100% of the proceeds of the car wash during the two hours of the remote broadcast are turned over to the Windham County Committee. A large banner is displayed on the entrance side of the car wash reminding all to become involved in some way in this huge effort to Keep Vermont Clean!
Anniversary Celebration - JUNE
An anniversary celebration in gratitude to the community of car wash users is held each June. We want to thank all car wash patrons for their support of the car wash. Decorative balloon bouquets adorn the facility. Our top-of-the-line car wash is priced at an incredible discount, an amazing deal is offered on summer unlimited wash contracts, and wash cards are sold at the lowest prices of the year. Each customer is given the opportunity to enter a drawing for free car washing for one vehicle for an entire year! Complimentary beverages, coffee cake, cookies, or other refreshments are given out. A rollicking good time is had by all, staff and customers alike.